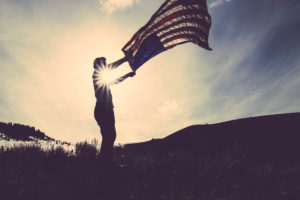 Memorial Day. A holiday conceived to solemnly commemorate fallen soldiers that has been transmuted over time to also celebrate the kick off to summer, first barbeque of the season, one of the biggest sales weekends of the year, and of course, countless numbers of graduations. Funny how a day steeped in tribute, ceremony and heroism is also a day we reaffirm some of the year's happy and life-affirming milestones.
Such is life.  As individuals and as a people, it's often in memory of our dead heroes that we find perspective, and the courage we need to be grateful, and to celebrate life and our uncertain futures.
I remember the Memorial Day parades of my childhood. Marching bands and flags to wave. On television we saw the wreath laying ceremony at the Tomb of the Unknown Soldier. Unidentified heroes of war.
Children often ask if you have to be dead, or a soldier to be a hero.
No. Not at all. People in all walks of life have the capacity to be heroes.  Even us.
It's a matter of character. It includes traits like bravery, courage, compassion, selflessness, humility, patience, caring, integrity and honesty.
In our own worlds, we all share at least some of these qualities.
Ultimately, I like to think of heroes as those whose stories inspire us to live richer and fuller lives.
So before you go to your sales and your barbeques, beaches or grandma's house, here are 19 quotes to inspire us, as Americans, and as humans, to be the heroes of our lives.
"On Memorial Day, I don't want to only remember the combatants. There were also those who came out of the trenches as writers and poets, who started preaching peace, men and women who have made this world a kinder place to live." – Eric Burdon
"America is hope. It is compassion. It is excellence. It is valor." – Paul Tsongas
I love America more than any other country in this world, and, exactly for this reason, I insist on the right to criticize her perpetually." – James A. Baldwin
"There is nothing wrong with America that cannot be cured with what is right in America. " – William J. Clinton
"True patriotism isn't cheap. It's about taking on a fair share of the burden of keeping America going." — Robert Reich
"A hero is someone who has given his or her life to something bigger than oneself." -Joseph Campbell
"The greatest glory of a free-born people is to transmit that freedom to their children." -William Havard
"This nation will remain the land of the free only so long as it is the home of the brave." –Elmer Davis
"The legacy of heroes is the memory of a great name and the inheritance of a great example." –Benjamin Disraeli
"I've never tried to block out the memories of the past, even though some are painful. I don't understand people who hide from their past. Everything you live through helps to make you the person you are now." – Sophia Loren
"Courage is almost a contradiction in terms. It means a strong desire to live taking the form of readiness to die." –G.K. Chesterton
"Ceremonies are important. But our gratitude has to be more than visits to the troops, and once-a-year Memorial Day ceremonies. We honor the dead best by treating the living well." –Jennifer M. Granholm
"Who kept the faith and fought the fight; The glory theirs, the duty ours." –Wallace Bruce
"Life is all memory, except for the one present moment that goes by you so quickly you hardly catch it going." –Tennessee Williams
"Never throughout history has a man who lived a life of ease left a name worth remembering." –Theodore Roosevelt
"The key to immortality is first living a life worth remembering." –Bruce Lee
"History is a people's memory, and without a memory, man is demoted to the lower animals." –Malcolm X
"Sharing tales of those we've lost is how we keep from really losing them." – Mitch Albom
"Without memory, there is no culture. Without memory, there would be no civilization, no society, no future." – Elie Wiesel
Have a safe, and inspired day.